Scoop: Chinese block visit of Trump confidant
China recently declined to issue a visa to Michael Pillsbury, an informal adviser to President Trump on China policy, in an unusual move that comes as the Trump administration steps up its scrutiny of Chinese experts attempting to travel to the U.S.
Why it matters: Trump has praised Pillsbury, a hawkish former Pentagon official and author, as "the leading authority on China." Pillsbury regularly discusses China with Trump, including during an Oval Office meeting about a month ago. Pillsbury told Axios he has visited China over 50 times since the 1970s and this is the first time his visa request hasn't been approved.
How it happened: Pillsbury was due to participate in a conference in Beijing last Sunday hosted by the Center for China and Globalization. He was also invited to an event at the U.S. Embassy in Beijing hosted by Ambassador Terry Branstad.
Pillsbury told Axios he applied for a visa at the Chinese consulate in Washington three weeks prior to his trip but the Chinese sat on his application, and he has not yet received his passport back. (The visa was neither approved nor denied, but the result was the same: he couldn't travel to China for the conference.)
He said he reached out to a well-connected Chinese contact seeking information about what was going on, and the contact pointed him to an article published Sunday in the New York Times about the U.S. blocking visits from Chinese scholars due to concerns about espionage.
Pillsbury said China had also declined to issue a visa to Wendy Cutler, a China expert who served as a top trade negotiator in the Obama administration and was scheduled to take part in the same conference. Cutler did not immediately respond to a request for comment.
Between the lines: It's not entirely clear whether the Chinese move was a tit-for-tat response to the U.S. steps. The Chinese embassy did not respond to requests for comment. Pillsbury, for one, links it to ongoing trade talks. "It's part of China's apparent slowdown or refusal to make the final deal and deal with the remaining issues of importance," he said.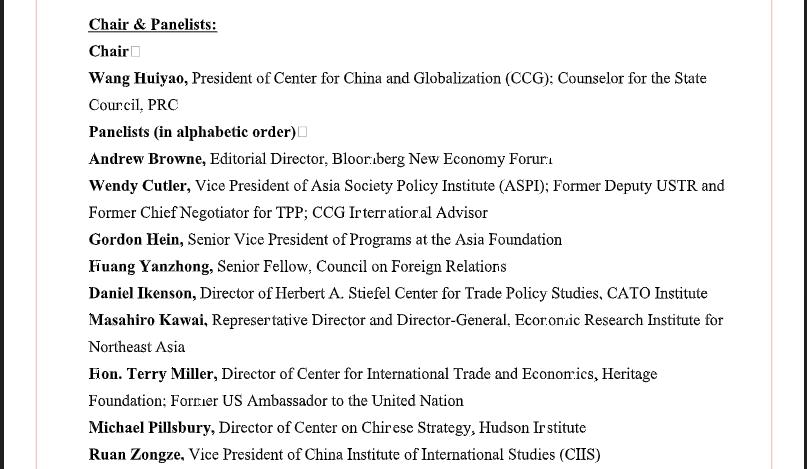 Part of the China and Globalization Forum agenda showing scheduled speakers, including Pillsbury. Screengrab: Obtained by Axios.
The big picture: During an Oval Office meeting with Chinese Vice Premier Liu He on April 4, Trump said he thought the two sides were close to a "very monumental" trade deal that could be announced as soon as within four weeks.
But, according to a Wall Street Journal report today, that timeline may be slipping, with another round of talks in Beijing expected at the end of this month and a visit from the Chinese in early May.
Some senior administration officials, chiefly Treasury Secretary Steven Mnuchin and Trump's top economic adviser Larry Kudlow, have broadcast optimism about the prospects of a deal, keeping markets perky. Mnuchin said a few days ago that the administration was close to a final deal and said the U.S. would be willing to face"certain repercussions" if it doesn't live up to what it promises the Chinese in a potential deal.
What to watch: A source briefed on the most recent round of talks said the "entire ballgame" is in the enforcement of an eventual agreement — and more specifically in monitoring whether the Chinese live up to their promises.
Source: https://www.axios.com/china-denies-visa-to-us-expert-michael-pillsbury-1bf32caa-2b4c-422b-bac3-19bb20c439b0.html